Face & Halo Lit Channel Letters & Logos On Raceway
Face & Halo Lit Channel Letters & Logos on Raceway
Superbright LEDs and Raceway Mounting System
Front Facing LEDs light the sign through the Translucent Plastic face making the sign easy read at night. A second set of LEDs Light through the Transparent back creating a Halo Glow. Sign will be pre-mounted on a aluminum rectangular container that runs the entire length of the sign. This the container is the raceway and it has all of the electrical components of the sign inside of it.

All our signs carry the UL label and are tested and inspected by a UL certified inspector.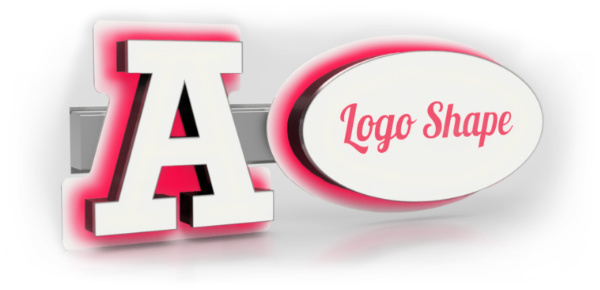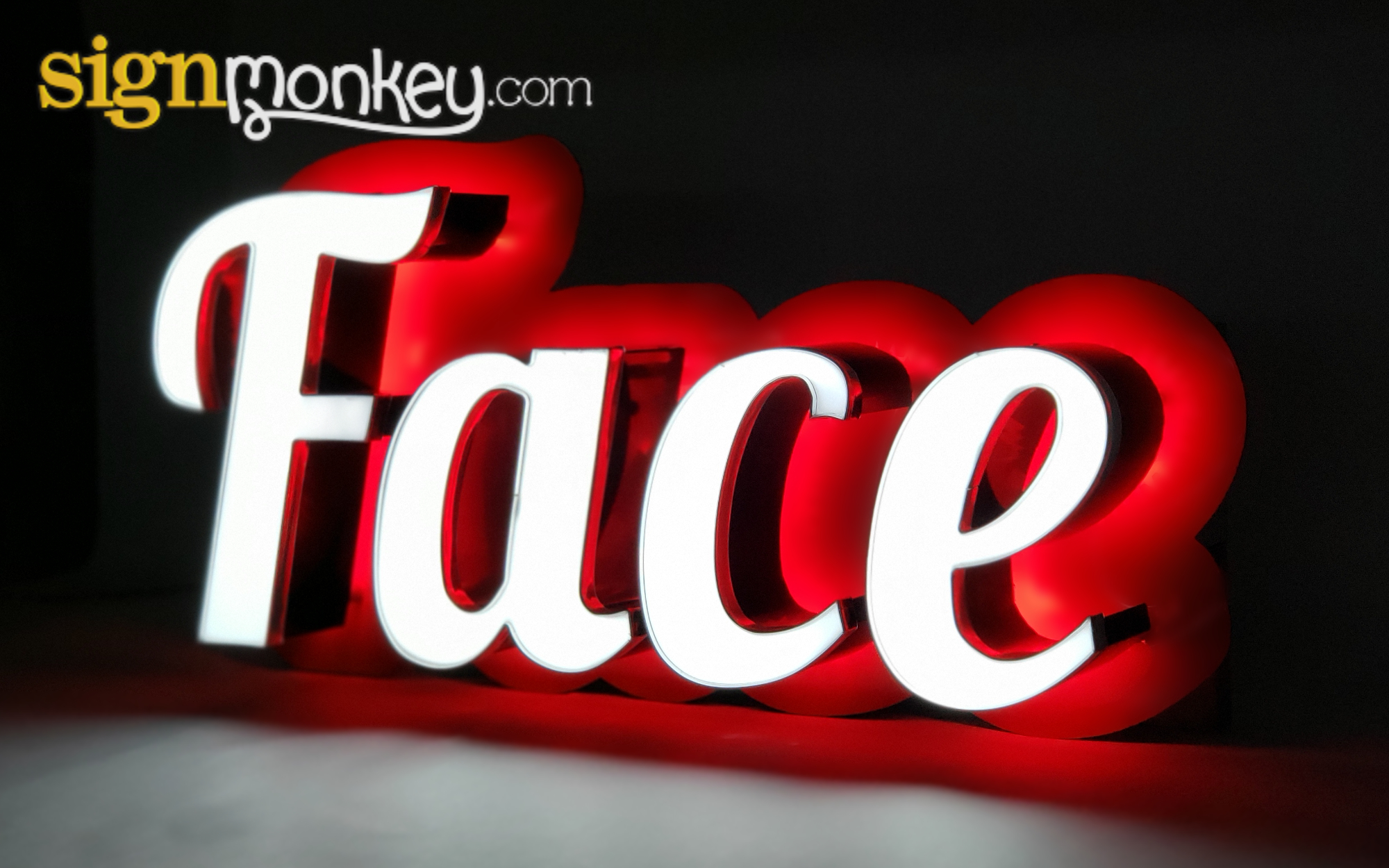 Face & Halo Lit LED Sign Construction
Weatherproof, high output LEDs are pre-installed inside all Face & Halo Lit channel letters. System is 100% complete and ready to install. Lit Letters and Logos are preinstalled on the all aluminum Raceway. Standard 5 inch depth on all letter heights. Signs can be installed indoors or outdoors. We conduct a 32 point quality inspection during manufacturing.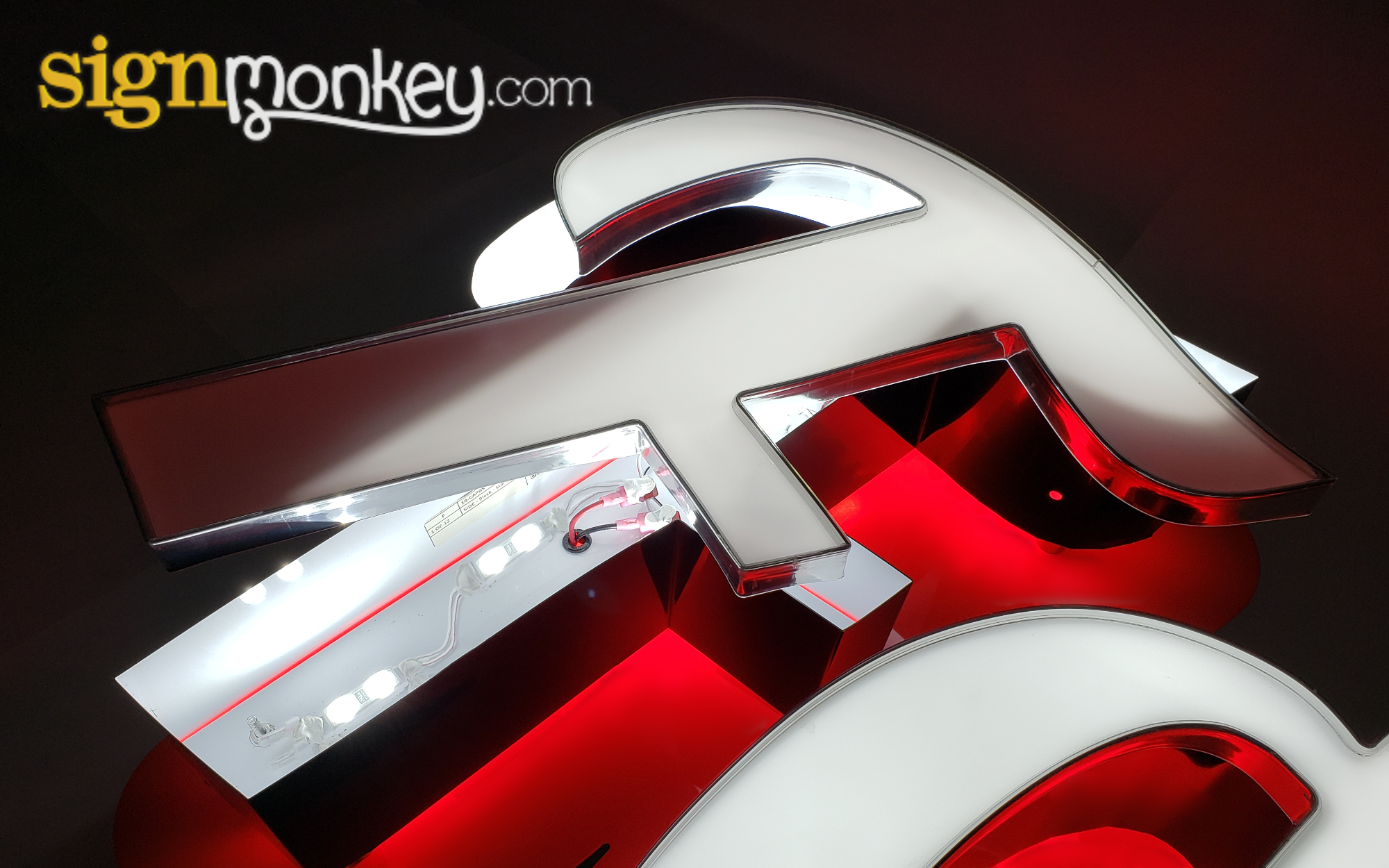 Face & Halo Sign Faces Illumination
Modified High impact Acrylic Faces are available in standard colors or any Pantone or Sherwin Williams Color as well as Designer Faces. Internal illumination though the face with Super Bright LEDs, with a second complete set of LEDs for the Halo Lighting.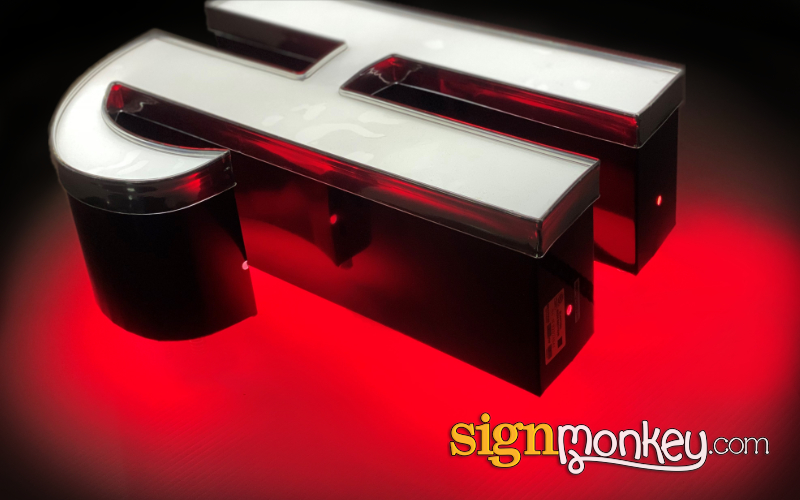 Halo Lighting with Rear Facing LEDs
The Back of the Halo Lit Sign, has rear facing LEDs, these LEDs form the halo that reflects against the Background. The Rear Facing Halo LEDs are protected by a translucent polycarbonate cover. Halo Lighting is also available in almost any color desired.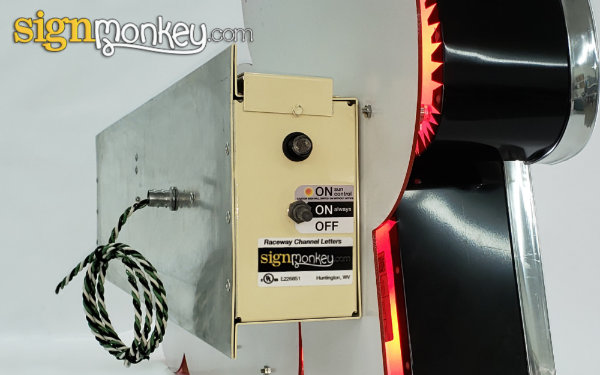 Raceway Power System
All electric components of the Raceway Mounted sign are contained inside the metal raceway. Also included with the raceway is our Sun Control switch. You can choose to have your sign on continuously or to have the sign automatically turn on and off with the sun. The Raceway has a metal mounting flange on the top and bottom. Fasteners can be installed anywhere through this flange to your structure. We will provide a 6', 3 wire 120volt A/C whip that connects to your power like any light fixture.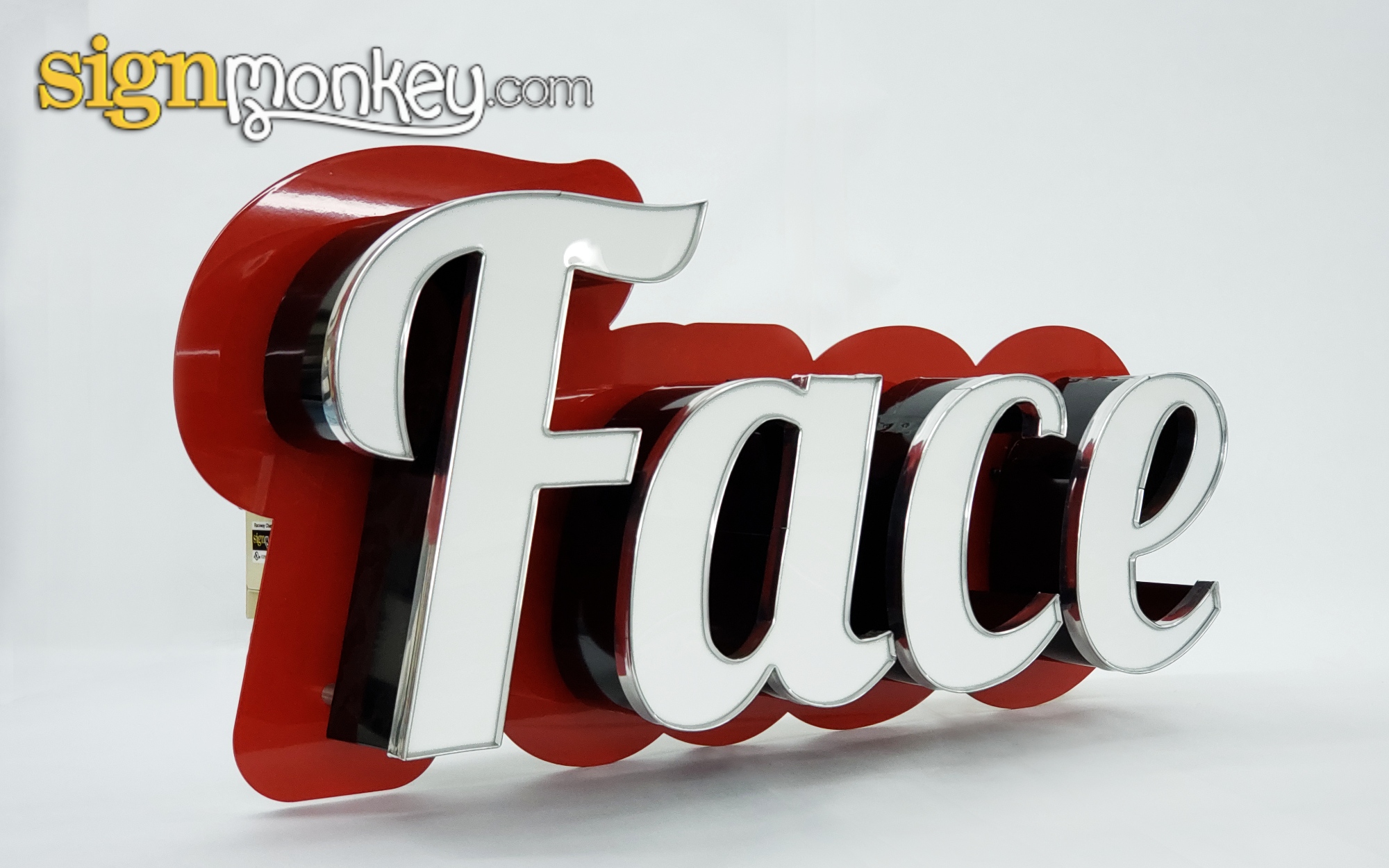 Included Sign Background (shown in red)
All Raceway Mounted Face and Halo Lit letters have a "Background" (shown in red) behind the letters to reflect the halo light. Behind the letters and in front of the raceway is an aluminum composite background panel. This panel provides a surface for the rear facing LEDs to reflect against. Without the Background, the halo would shine onto the raceway and the wall, each of these surfaces are different distances from the letters and would not create the desired effect.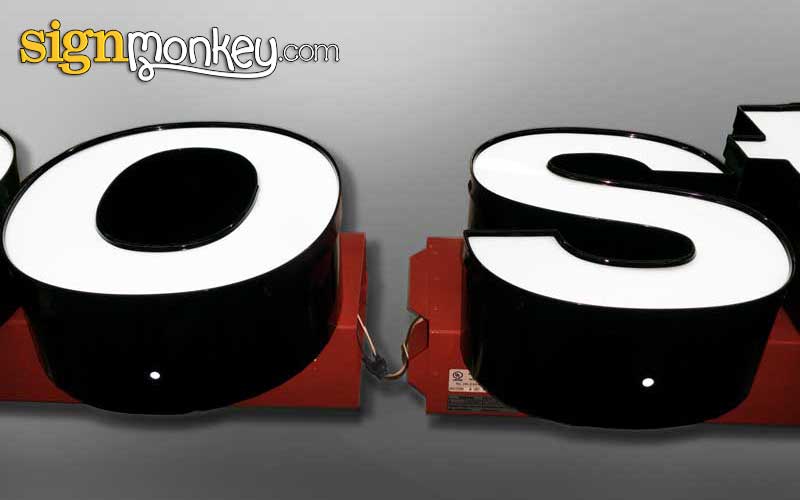 Raceway Sign Sections
Raceway Sign Length is almost unlimited. Each section of the raceway is no longer than 10 feet. each 10 foot section of the raceway simplay plugs into the previous section. We put the power connections and switch in the first section. this makes shipping and installation much easier.
Optional Items
Optional Roof Mount Bracket for Raceway
We can provide our standard or custom mounting for installing your raceway channel letters to a roof or other structure.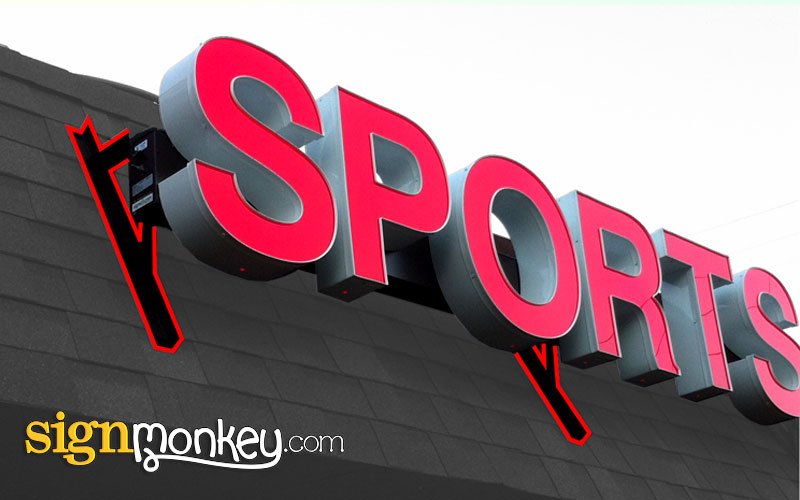 Easy Installation
Our products are designed to be installed by people with limited electricalexperience. UL labeled and National Electric Code Approved
Charles Coooper
"I did it all myself and i saved more than 50% than it would have cost from my local sign company. Seriously!!"
Austin
"We honestly saved around $3000 dollars by using sign monkey and installing ourselves!"
Shipping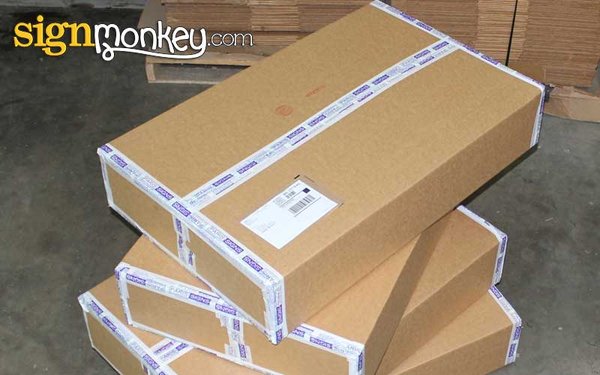 UPS Shipment
All products small enough to fit into a box are shipped via UPS. We pack multiple items in each box and pack them to arrive in perfect condition. Products are shipped ready to install. You simply take the boxes to the installation site, carefully remove them from the packing and install. There is no assembly required.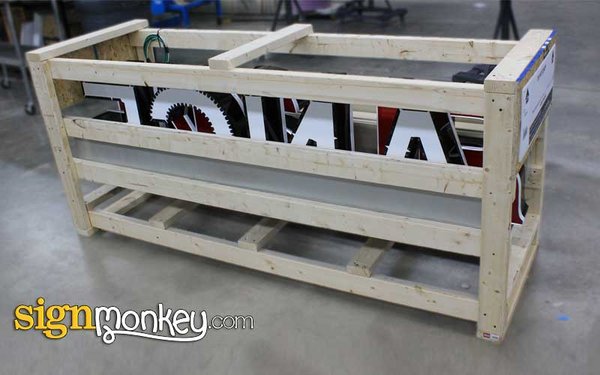 Truck Freight Shipping
When a product is to big to ship UPS, we will ship your item via truck freight. Your product will be ready to install directly from the crate. You simply take the crate to the installation location, unpack it, and install it onto the wall. Our crate is designed for your item to arrive in perfect condition.